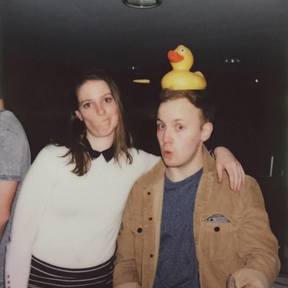 Hi! My name's Matt, I'm the one pictured on the right, sporting that most popular of 2016 trends - DuckHat. I graduated from Makers in Jan '16, and now I work as a Python & JavaScript Developer at Farm Digital in Manchester. I also moonlight as a mentor at CodeUp Manchester where many of the attendees are in a similar situation to you, they're just getting started in code!
When pairing I think the best way to succeed is with a methodical approach, expect to be asked 'Why?', to have your process challenged. The key to being a successful programmer is being able to break down a large problem into bitesize parts, and then taking incremental steps to create a solution.
Oh, and along the way we'll probably end up using a TONNE of analogies and mnemonics to bust through all of the jargon and new concepts. Maybe I can tell you how the Law of Demeter became the Law of Dementor on the Jan '16 cohort.
If any of this interests you, get in touch and we'll arrange a time that works for you in either hour long or two hour blocks.
All the best on your coding adventure, and hopefully speak soon.
- Matt
No followed people